I so shouldn't be on the computer doing this right now. Goodness knows I've got plenty of other things to do but... It's Monday and what would you all do if you didn't know what we did all weekend? I wouldn't want to leave you all hanging waiting for the next installment of "Bore My Readers To Tears".
Friday a co-worker, who I don't even know, handed me two tickets to the Toby Keith concert that he couldn't use. Uh, thanks, new work best friend, who looks a lot like Wilson from Tool Time, because all he did was lean over my cube. I couldn't pick the guy out of a line up.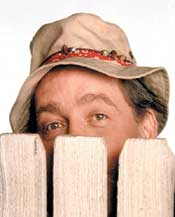 So we've got free Toby Keith tickets, my cousin and her family are going and our friends Jon and Audra are going. We're all set to leave the house and BAM it starts POURING. We all have lawn seats. We decided to wait it out. There were several bands that were supposed to go on before Toby Keith so we figured that he wouldn't be on until 9:00 or so. We live a couple of miles from the venue, and lets face it, this isn't exactly Boston or New York city. Getting there late isn't an issue. We could waltz right in. At about 8:30 my cousin Jackie called to say that they were soaking wet and freezing and that she was taking the kids home. If SHE had free tickets SHE wouldn't be there. SO, we chose to stay home. The End.
Saturday, Skyler's little friend Danielle hostessed a tea party at a local diner. Apparently she won it in a raffle contest. All the little girls dressed up like princesses and at finger sandwiches and had apple juice in tea cups. It was adorable.
Zack came along and was on his best behavior. I think he might have hit is head on the way there. Best behavior and tea party don't generally go together in the same sentence for Zack.
Saturday evening was my company's summer picnic. This year we had it at the local baseball field. We had a whole picnic area right near third base. It was the awesome! Amy met us there with Nate. Once they got to eat Zack and Skyler were well behaved. Matt and I even started speaking to each other again after that. There's nothing like having to get somewhere on time and having two kids bickering that makes for delightful conversation betwee two married people. Zack pestered one of the ball players until he tossed him a ball. "36, toss me a ball. 36 over here. 36 ball". I swear the guy tossed him the ball just to shut him up. Matt got another player to throw one over for Sky so the kids left happy!
Sunday we watched the Olympics for too many hours. We even watched fencing and I have a question. Does the light on the helmet go off when the body is touched, or does the light go off when a judge hits a buzzer or something? We couldn't figure it out. THEN we had dinner with our favorite other family. Nate could watch my kids act like fools for hours. He stares at them like they're little monkeys for his entertainment, which is exactly how they behave. We had fun and Amy even baked a cake, just for us, cuz she could, and I like cake.
Aren't you glad you didn't miss out on this?